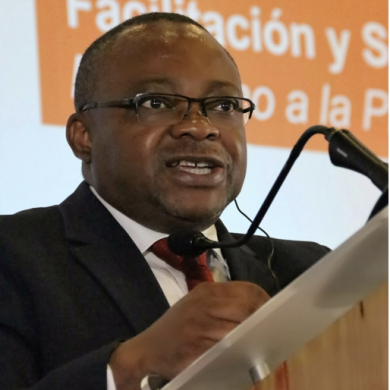 Faustin M. LUANGA
Economista Senior Organización Mundial de Comercio (OMC
Over 20 years of experience dealing with economic development at both international and national level. Chief Economist and Senior Development Adviser to President Kabila of the Democratic Republic of Congo; Regional Coordinator for Africa at the Institute for training and technical cooperation of the World Trade Organization; University Professor; I occupied senior positions for many years dealing with economic development and trade issues. I have a sound understanding of world and Africa's challenges in different areas including economic development policy, negociation and formulation of trade policy, finance, regional integration, industrial policy, infrastructure development, international relations, politics and international diplomacy.
By properly assessing the needs and designing appropriate trade related technical assistance program for developing countries, particularly the African one, I significantly contributed to enhance their institutional and human capacity; henceforth increasing their participation in the multilateral trading system, allowing them to take full advantage of existing market access opportunities, helping them to negotiate better in the Doha negotiations to maximize their interests, and to mainstream trade into their development policy.
Through senior positions held, I built strong relationships with policymakers, multilateral institutions and donor community. I have several years of experience in fund raising and managing Donor Resources. I developed and conducted several specific technical cooperation programs to respond to the needs of many developing countries, including ressources mobilization for financing of development needs and challenges.